Hoivita is awarded Oulu Health Lab's "Tested" Label
Hoivita is awarded Oulu Health Lab's "Tested" Label
Hoivita receives Oulu Health Labs 'Tested' Label for contactless respiratory rate monitoring solution after the successful completion of testing at OYS TestLab.  
Hoivita Respimeter (CE1 marked medical device) is a contactless radar based device that enables remote monitoring of the patient's respiratory rate. All measured data is easily available through Hoivita's OneView platform or, if necessary, can be easily integrated into the PHR system. 
"There is no such technology for monitoring the respiratory rate available in the hospital and medical professionals are still using the traditional method". 
The solution's suitability and usability have been tested according to the OuluHealth Labs quality criteria by 4 nursing professionals from acute and bed wards in OYS TestLab. Oulu Health Labs 'Tested' Label assures its suitability for monitoring the respiratory rate of long-term patients, for example during night monitoring or others in situations where it is monitored during ward treatment.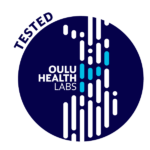 In acute care work, the device can also achieve added value to nursing work with small changes to the existing solution. For quick use, the Respimeter can easily provide the respiration rate of the patient for calculating the NEWS score. 
In addition, OYS TestLab's panel of healthcare professionals have highlighted several advantages, among which its ease of use and the fact that it requires only basic IT knowledge to operate are the most promising ones. The device has also demonstrated consistency in its performance across varying environments. These attributes make the device a strong and reliable solution for healthcare professionals. 
– There is no such technology for monitoring the respiratory rate available in the hospital and medical professionals are still using the traditional method. The use of this device  results in patients receiving better services in hospitals. Additionally, the device has shown promising results in both short and long-term use, with professionals confirming its daily usability in their work and its ability to assist with monitoring patients' vitals over the long term, says one of the participant nurses during the test. 
– We are on a mission to ease the workload of Healthcare professionals and empower patients to track their vitals with convenience, says Hoivita CEO Abhishek Jayaprakash. 
More information 
Hoivita Oy
Hoivita Oy creates remote monitoring solutions for providers of home care, health and well-being services for the elderly, which prolong living at home for the elderly and ensure safe living at home and in service homes. The company's completely contactless sensor solutions can be put into use in a couple of minutes. They are automatically connected to the data network and life monitoring and analysis start immediately. Those responsible for care work can see the situation of the elderly and its development in the web service immediately. Hoivita Oy is a domestic specialist company that was born in August 2022 from the merger of two companies from Lappeenranta, Henkaus Oy and Vesratio Oy. The background of the company is international experts who graduated from LUT University, experienced experts in home care technology, and long-term entrepreneurs.
OuluHealth Labs Labels
The OuluHealth Labs Labels are granted by the OuluHealth Labs to health and life science companies that successfully went through the evaluation process of their digital and technological solutions. It has developed a systematic approach to evaluate digital and technological solutions and innovations. Based on this evaluation process, OuluHealth Labs can give as an acknowledgment an OuluHealth Labs Label for the company and its solution that has passed the process. Labels are divided into three different categories: approved, tested, and co-created. 
Contact information
Hoivita Oy
Valtakatu 42, 4. kerros, FI-53100 Lappeenranta, Finland
Puh: +358 417511769
Email: abhishek.jayaprakash@hoivita.com
Web: https://www.hoivita.com/